Pro Tips For Kitchen Renovations
Image via designbuildinhabit/Flickr
The kitchen is the heart of a home. Yes, bedrooms and bathrooms matter. But if you're rehabbing a house on an extremely tight budget, it really pays to spend your dollars in the kitchen first.
Here are some helpful tips on what to spend your money on in the kitchen.
$1500 Budget
Although most people would consider $1500 to be a shoestring budget, you'd be amazed at the kind of kitchen transformation you can achieve for so little. Start with paint – repaint the walls and possibly the cabinets, depending on what material they're made from. If they're wood and looking a little dated, a nice semi-gloss paint can freshen up a kitchen space quickly and easily. Next, I'd recommend heading to your favorite home improvement store to choose some nice new hardware for the cabinets. Consider also buying some attractive drawer liners to line the cupboards and drawers with – you can bet your buyer will be opening them! I'd also recommend investing in a nice new faucet for the sink – this can do wonders to makeover a tired kitchen. And lastly, don't forget about the floor. Make sure it's been deeply cleaned and consider investing in some nice new rugs to throw down to add some softness to the space.
$3000 Budget
Image via Polygon Realty Limited/Flickr
In addition to my rehab recommendations for a $1500 budget, now you have a little extra cash to invest in some new appliances, preferably stainless steel. There are often incredible deals offered as "scratch and dent sales" or floor models by appliance stores. You just have to do a little price shopping. You'll want a new stove, fridge, and microwave, as a bare minimum (you can pick up a nice stainless steel microwave for as little as $80!). Use the internet and your phone to find the best deals.
$5,000 Budget
Now you have a little more money to play with. As part of this budget, I recommend that you look at installing some new lighting – perhaps some really nice pendulum lights or a single centerpiece light that really modernizes the space. Consider adding a decorative backsplash behind the stove and investing in two or three new bar stools to give the kitchen a hip vibe.
Image via Emily May
If you're feeling short on kitchen design inspiration, take a look at web sites like Pinterest.com or www.Houzz.com. Remember, start with the basics first and add on additional items as your budget permits. Before you know it, your kitchen will have the look of a much more expensive transformation without having to spend all that extra money!
What would you change about your current kitchen?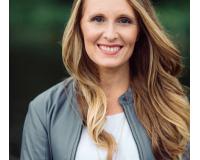 Author:
Kate Fadden
Phone:
360-483-6483
Dated:
October 19th 2015
Views:
1,039
About Kate: ...